Betty's Home Menu
Be Your Own Betty (BYOB)!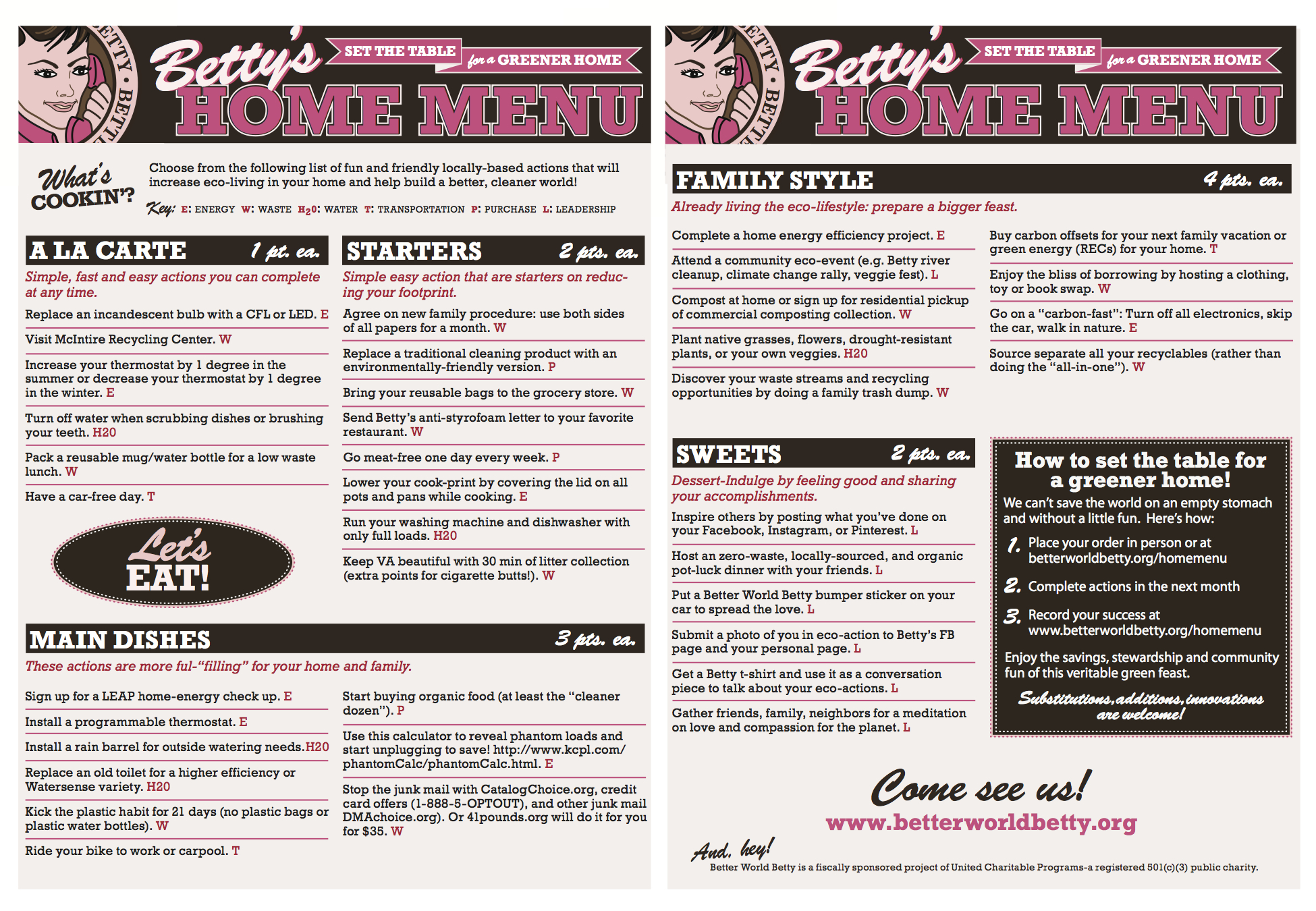 Better World Betty unveilsa an innovative way that Charlottesville-area residents can increase their eco-living practices in their own homes: "Betty's Home Menu." The menu below details action items that people can complete at home that will help them save money and be better stewards of the community – starting in their own backyards. (This campaign was originally made possible thanks to an eco-living grant fund of the Charlottesville Area Community Foundation)
How it works:
1- Choose from a list of eco-actions: "appetizers" (the simple stuff), "main courses" (bigger actions), or "family style" (requiring a deeper investment).
2- Take action!
Download your own copy:  Betty's Home Menu
Looking to use the Home Menu in your community or organization?
Read our manual on why and how to use Betty's Home Menu of eco-actions!
Betty's Home Menu Manual
Resources
Need a little help checking things off your menu order? Peruse these Betty resources for guidance. Don't see what you need? Send us an email with your question at info@betterworldbetty.org!
Carbon credits: http://www.carbonfund.org/individuals
CFLs and LEDs: http://www.betterworldbetty.org/betty-lights-up-your-life/
Cleaning: http://www.betterworldbetty.org/d-i-y-green-cleaners/
Commuting: http://cvillebetterbiz.org/2013/11/lunch-n-learn-recap-building-resilience-into-your-operations/
Composting: http://www.betterworldbetty.org/how-to-recycle-organic-waste/
"Cookprints": http://www.betterworldbetty.org/lower-your-cookprint-with-these-tips/
Driving: http://www.betterworldbetty.org/bettys-october-column-in-abode-reduce-your-driving/
Home energy check-up: http://leap-va.org/checkup/
Junk mail: http://www.betterworldbetty.org/say-no-to-junk-mail/
Organic produce (Dirty Dozen and Clean 15): http://www.ewg.org/foodnews/
Plug loads: http://www.takecontrolandsave.coop/PhantomLoadCalc.aspx
Reusable bags and Water bottles: http://www.betterworldbetty.org/reasons-to-ditch-your-plastic-bags-and-bottles/