Local Recycling Program Helps Community
A new program in Albemarle County is turning hard-to-recycle plastics into resources for community outreach. Betsey Soulsby, a dental hygienist at Charlottesville Dental Health Partners, has volunteered for years with the Monticello Dental Hygienists' Association to educate Bright Stars and Head Start youngsters about how to take good care of their teeth. But recently, she discovered a way to raise funds for her outreach work by giving used toothbrushes, empty toothpaste tubes, and other plastic packaging a second life.
Betsey collects used plastics from her workplace and from her clients, and packs them off to TerraCycle, a company that will pay for these materials and transform them into new, long-lasting products such as waste bins and park benches. Over the past few months, "about 2,000 items have been kept out of the waste stream," Betsey reports. She then uses the money she receives from TerraCycle to buy new toothbrushes that she can distribute to the preschoolers to whom she teaches dental care.
The Association's flyer identifies the range of plastic items that can be recycled through the program—everything from empty dental floss containers to shampoo bottles: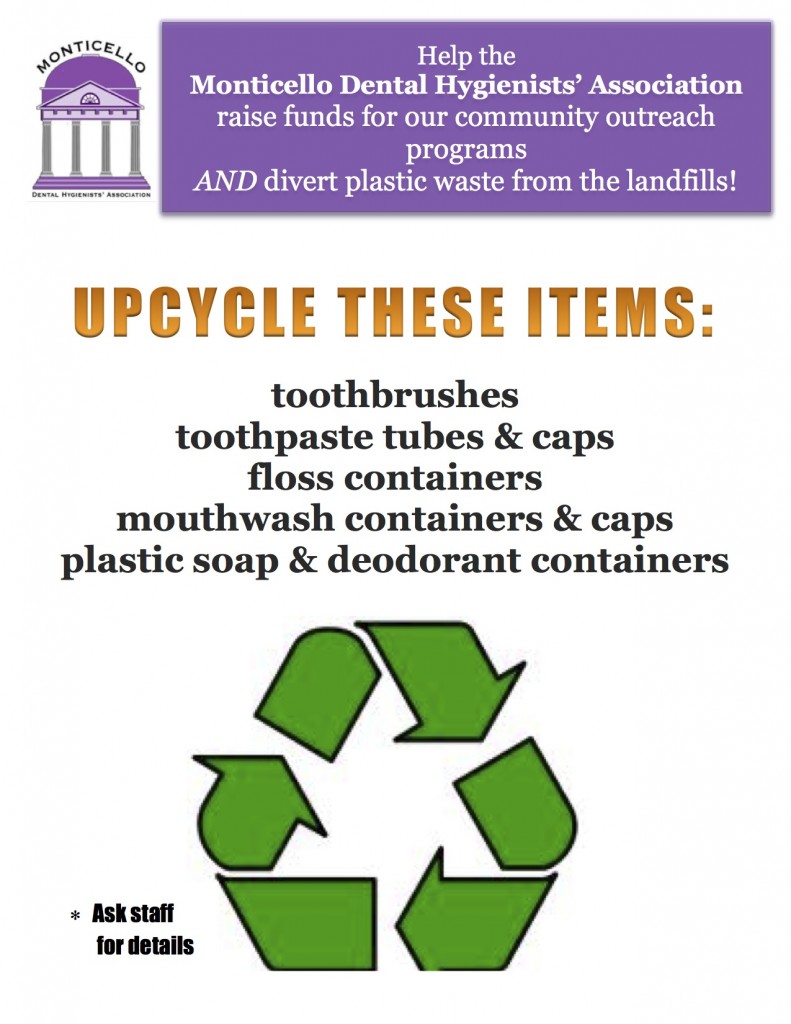 Betsey is motivated to get other dental offices to participate, too. "Ask your hygienist," she recommends, " they might go ahead and join the effort." For more information about the program, contact the Monticello Dental Hygienists' Association at monticellodentalhygienistsassc@gmail.com.