Statement to Albemarle Board of Supervisors on Waste and Recycling!
Statement to the Board of Supervisors in support of Comprehensive Solid Waste Management
September 9, 2014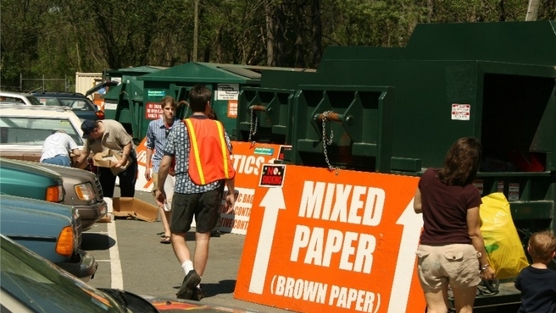 In June of 2013 two local non-profits joined to form the Charlottesville Area Recycling Task Force because we saw a disturbing trend happening in our community. On the heels of aggressive marketing declaring inflated recycling rates, individuals and families everywhere stopped their recycling habits and regressed to an "all-in-one" system that relies on quantity rather than quality.
Therefore, CART created strong goals for increasing awareness about the importance of keeping recyclables separate (in other words TRUE "single stream recycling") and advocating for full transparency and better recycling services in our area. And our number one goal was to see to it that we helped advocate and educate our Albemarle county officials and citizens on the importance of proper recycling and the opportunities which reside therein and reframe "waste management" to "sustainable materials management" according to the new EPA definition.
Communities can no longer afford to "throw away" the environmental and economic opportunities and benefits in recovering resources found in our everyday trash. Benefits include conserving valuable and diminishing resources, promoting local economies, and avoiding landfill emissions and impacts. Better World Betty fields several questions monthly on "What do I do with _[fill in the blank]" whether it's outdated electronics, pharmaceuticals, or chemicals lurking in our basement that we realize we don't want or need anymore. Without solutions, citizens are at risk of polluting precious resources like our air and water.
As one resident told us, "I would like for Charlottesville-Albemarle to be a leader in recycling technology. It makes it a better place to live, creates pride in our community, and stimulates a culture of awareness of both recycling and its economic consequences. We'll be better off economically as a result, despite the short-term increase in costs."
Thus we find ourselves at a critical crossroads when it comes to sustainable materials management in Albemarle County. In light of this and the county's vision of honoring our natural resources, we strongly urge the Albemarle County Board of Supervisors to adopt a comprehensive long-term waste management and recycling plan that calls us to a higher standard of stewardship as a community and better serves the changing needs of our waste stream for the economic and environmental well-being of us all.
Teri Kent
Founder/Program Manager, Better World Betty