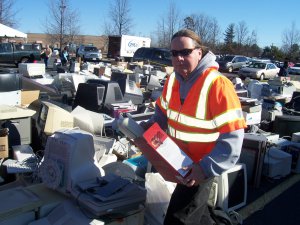 The Betty Team received sad news today about the passing of Bruce Edmonds — a longtime Betty supporter, local recycling hero, co-host of the "Bruce and Betty" eco-living radio segment on 1061 the Corner, and RSWA McIntire Recycling manager.
I have such fond memories of our lighthearted segment with Brad Savage of the Corner radio where we would wax poetic (or at least try to) about the ease, importance, and fun of recycling among other topics.  I remember his favorite saying, "that's a win-win for everyone!" Usually about the 3 R's: reducing, reusing, and recycling.
I would tell listeners, "Don't let his gruff voice and sometimes "negative nancy" attitude fool you– (Bruce's words, not mine). He cares very deeply about his environmental work!" The photo above is Bruce at Crutchfield's Big Recycling Event – rumored to be the biggest single-day recycling event in the state at that time (2008).  He was there from dawn until dusk that day!  Bruce and I also worked together when Betty successfully petitioned to keep the recycling center open (bottom photo).
Bruce was in the recycling biz for over 20 years and really knew his stuff. With pride he told me that the McIntire Recycling Center was opened on the first Earth Day. He worked for RSWA for many years and recycling regulars appreciated him keeping the place clean and well-run.
He was a big supporter of Betty's mission right from the beginning and always had encouraging words for me in my early days of beginning the organization. When I didn't have the slightest idea on how to recycle an item (like an old but working gas grill – they sell them at the Encore Shop out at the Ivy MUC), he would always know the answer. And if he didn't know the answer, he would find it out.  Pictured below was plastic wrap I brought in from a flower bouquet – he said unfortunately it wasn't recyclable, but he would use it as a scarf.  So I snapped his photo!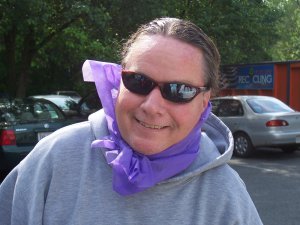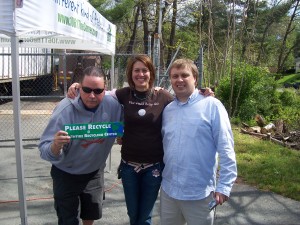 Bruce, you will be missed! Thanks for all you did for our community and the planet.
Blessings,
Betty