The Local Landscape
Want to know your recycling options in Charlottesville and Albemarle? Click the image below to see where you can find All-in-One, Single Stream, and Source Separated Recycling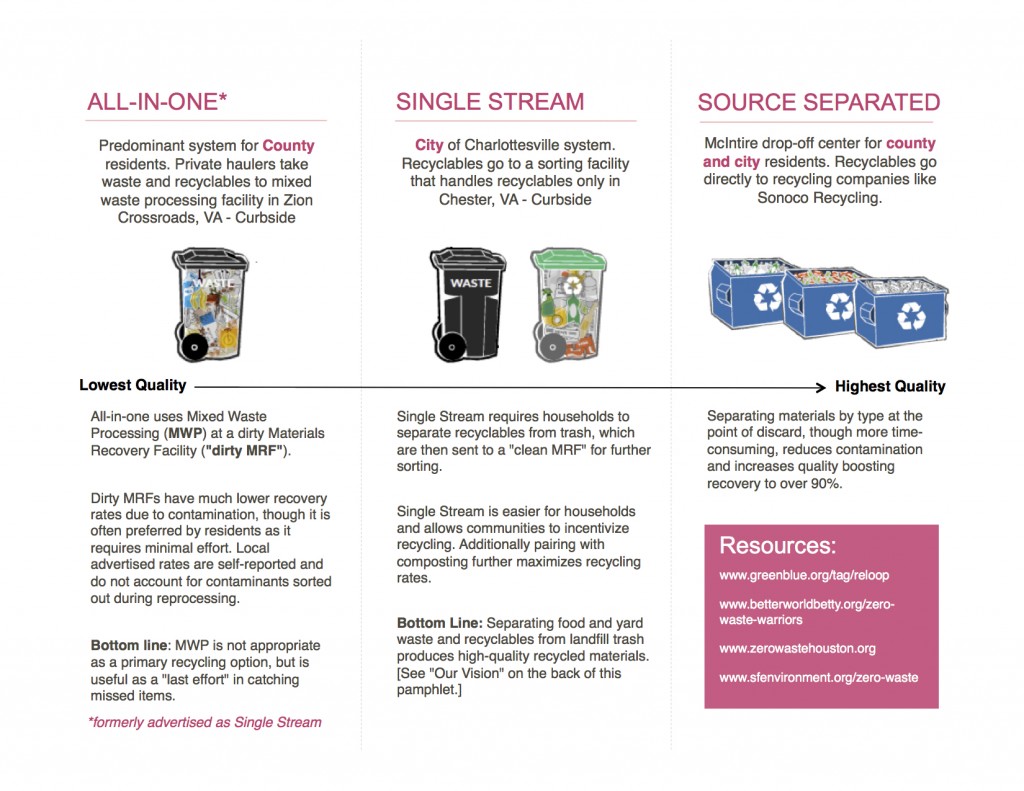 Where to take your waste?
City Residents:
County Residents:
With the opening of Van der Linde Recycling last year, all local garbage haulers except Republic Services and Waste Management use this mix-waste recycling facility. Go to vanderlinderecycling.com or call (877) 981-0891 for a list of local trash haulers.
HOWEVER to achieve maximum recycling results, County residents should contact Republic Services or Evergreen Recycling to see if services are offered in their area, or take their own recyclables to McIntire Road Recycling Center. According to the 2015 DEQ report Vanderlinde  

declared a recycling rate of 25%.
List of Recommended Services and Drop-off Locations:
Republic Services: (434) 295-4177, 1831 Avon Street. Monday-Friday: 8:00 a.m.-5:00 p.m., Saturday: 8:00 a.m.-11:00 a.m., Sunday: Closed. www.alliedwastecharlottesville.com/Pages/Home.aspx
County Waste: (434) 296-6000, 5498 Richmond Rd. Troy, VA 22974. Currently providing single stream recycling in the City, but not the County. We encourage County residents to contact them to express interest in single stream pick-up. http://www.sdidisposal.com/ 
Gerdau: (434) 296-6465, 100 Meade Ave. The recycling here can be hit or miss, but I recently recycled a defunct microwave there. Open: 8 AM to 4 PM M-F; 8 AM to 11:30 AM Sat.
Evergreen Recycling: (434) 989-0681. Owner Mike Kruse has been offering full-service recycling pick-up for business for five years now. He handles cardboard, magazines/newspapers, office paper, bottles (both glass and plastic) and aluminum cans for a good price. www.evergreenrecyclingva.com
Ivy Materials Utilization Center: Rt 637 ( Dick Woods Road ), 3 miles south of the I-64 (Ivy) Exit. Operates household hazardous waste collection on designated days throughout the year. Herbicides, pesticides, antifreeze, motor oil, household batteries (oil based), latex-based paints, etc. rswa.avenue.org/materialuctr.htm
McIntire Road Recycling Center: McIntire Road just north of the Albemarle County Office Building.  Accepts pre-sorted recyclables including paper/cardboard, glass bottles and jars, metal food/beverage cans. and plastic. www.avenue.org/mcintire.htm
Newspaper, Magazine, and Catalog Drop-off: 

Sam's Club parking lot, located off Rt. 29 North (behind the Doubletree Hotel).  Open 24 hours per day, 7 days per week.
Pantops Shopping Center located next to Roses Store, located off Rt. 250 East.  Open 24 hours per day, 7 days per week.

City and County Residents can also take advantage of the Spring and Fall Bulky Waste Amnesty Day Program.