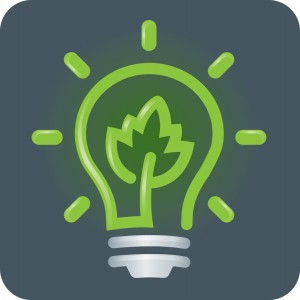 This article is part of a series on the theme of Simplifying which have been published in Echo Magazine in Charlottesville, VA.
The days are getting shorter, the nights longer, and unfortunately this may mean our wallets are getting lighter due to our electric bill! Indoor lighting can account for up to 25% of your household electricity use, so let's give you some ways to save and try to simplify the myriad of choices these days when it comes to lighting.
Background
In 2014 the U.S. started phasing out inefficient incandescent and fluorescent blubs. The Energy Independence and Security Act signed by President Bush in 2007 laid out changes in lighting legislation for the United States to take effect.
Saving energy reduces CO2 emissions, sulfur oxide, and high-level nuclear waste. According to Energystar.gov switching from traditional lighting to ENERGY STAR certified lighting can help you achieve energy savings of 70-90% or more, which could mean between $30 and $80 in electricity costs over each bulbs lifetime. Replacing your five most frequently used fixtures or bulbs with ENERGY STAR qualified lights can save $70 a year in energy costs. Ready to shop – let's talk CFL vs. LED! So here's the breakdown.
Brightness
We now look for Lumens, which is a measure of light output not Watts. The more lumens the brighter the light. (Note: watch out for lights that use reflectors as they will be brighter)
Helpful guide: 60 watt incandescent = 800 lumens
Color Quality
The first CFL lightbulb I bought to put in the kitchen recessed light I was instantly disappointed. It felt cold and impersonal like a hospital hallway. The solution is to pay attention to the Kelvins for color preference. This number will give you the best indication of the color spectrum of your bulb. CFL bulbs have a Kelvin or 'K' number listed on the packaging. CFLs with K numbers between 2700-3000 give off a soft warm white light like incandescents. CFLs with K numbers between 3500-6000 give off a cooler bright light. As you go up the K number scale the light gets bluish and closer to daylight (Note: I think the industry term "daylight" can be confusing because personally I associate daylight with being sunny/orange, but it's more blue so beware).
Helpful guide
2700K = Warm White (looks like the old incandescents)
Approx. 5000K = Cool White (white/blue, bright light)
Limitations of CFLs
Mercury. These bulbs do contain a trace amount of mercury. About 5mg which is 1/5 the amount in an average watch battery. A power plant will emit 10mg of mercury to produce the necessary electricity compared to 2.4mg for your CFL.
Requires time to warm up
CFLs may not work on dimmers. Check bulb packaging and with your electrician.
"They don't last as long as we thought." This most likely is due to the fact that CFLs do not like on/off cycling.
Outdoors: they need to be covered from the elements.
The LED Solution
Now if you want to take BIG savings, Light Emitting Diodes or LEDs are the way to go. Though LEDs cost more up front, they really save in the long term. I found a ultra-efficient recessed light bulb at Batteries Plus Bulbs for 15 dollars on sale!
LED lighting can reduce your energy use by 50% or more and last 10 times longer than CFLs. They are more durable, dimmable, don't require warm up time, run cool, are mercury free, super efficient and cost-effective over their lifespan.
Choosing your LED
45 watts incandescent uses 9 watts of energy or less! Choose between warm light (cozy for living rooms and bedrooms) or cool light (can better for reading, especially for elderly populations). LEDs use the same Kelvin and lumens ratings as CFLs.
Getting Ready for the Holidays
Everyone enjoys the festive lights of the holiday season and now this can be achieved without the heavy price tag and environmental repercussions.
LED light strings have come a long way over the years and there is a plethora of options now available in an array of colors. The new holiday C9 bulbs cost .27 cents to run for 12 hrs a day, 40 days whereas incandescent mini-lights cost $10 to run that long!
Today you can find LED options for almost any holiday decorative need, from C9 to mini to icicle to twinkling lights, multi-colored and white (including warm white and cool white). In addition to a broader selection, the price for LED light strings has come down as well making it a more affordable choice. In fact, several retailers located in the Charlottesville area and others online are offering LEDs for almost the same as the old kind (which remember, will cost more in the long run to operate).
Too complicated? There's an App for That!
"The Light Bulb Finder" won an EPA Apps for the Environment award and though it's not perfect, I do highly recommend it! It helped me find an alternative for my uber inefficient candle-style lights over our kitchen table.
Not Every CFL and LED is Created Equal
Look for the blue ENERGY START label! ENERGY STAR labeled CFL and LED bulbs and LED light strings are third-party certified and offer minimum warranties, protection against over-voltage and lamp failure, and maintained light output to list just a few benefits. Outdoor light strings undergo weathering testing. While you may save a few dollars at the time of purchase, you could find yourself spending more money on replacements down the road. You can visit the website for a full list of available products at www.energystar.gov/products.
Check out these estimates: to light a six-foot tree for 12 hours a day for 40 days
Incandescent C-9 lights $10.00
LED C-9 lights $0.27
Incandescent Mini-lights $2.74
LED Mini-lights $0.82
Handling of broken CFLs
The mercury in compact fluorescent bulbs poses no threat while in the bulb, but if you break one:
– open a window and leave the room for 15 minutes or more
– use a wet rag to clean it up and put all of the pieces, and the rag, into a plastic bag
– place all materials in a second sealed plastic bag
Recycling CFLs
Thanks for the great question! Batteries Plus Bulbs accepts these for a fee, but it is an EPA approved recycling process! Lowe's has receptacles near customer service designed for standard-size CFLs. (Customers are asked to tie the bulb into a plastic bag before depositing it in the bin.) They told me there is no limit to the quantity of CFLs they will accept. Lowe's said they would like to help recycle the fluorescent tubes, but they don't accept them because they are much larger and don't fit into the containers they provide for bulb recycling. Batteries Plus charges .25 cent/foot for recycling the fluorescent tubes, or $1 for a bulb four feet in length or longer.
Where can I recycle old Christmas lights (non LED)?
We wish this were easier, but alas: unless you live near a Home Depot (which usually offers recycling before the holiday season is in full swing – call ahead), you will have to send them to a recycling outlet of your choice. Go to Earth911 or search Better World Betty's website under lighting to find outlets that will accept them.
So let it shine fellow Betties – and be proud not only of your commitment to changing the world, one bulb at a time!
Thanks to Becky Duff, our newest energy efficiency Betty correspondent, for contributing to this article. A Senior Manager at ICF International, she helps to develop and promote energy and water efficiency specifications for residential and commercial products. Her favorite Betty action is to teach her own children about the importance of conservation – kids are our future, the world is in their hands.
Free guide to choosing lighting: https://www.energystar.gov/ia/products/fap/purchasing_checklist_revised.pdf?6a32-5337&61e2-8632