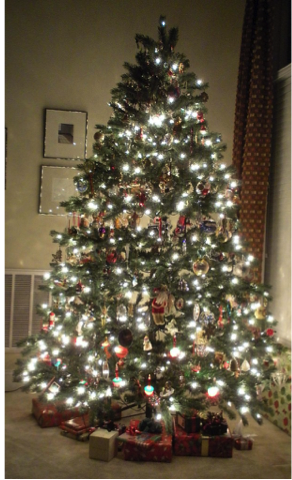 The Thanksgiving holiday is behind us, which not only means delicious leftovers and a new commitment to the gym but also HOLIDAY LIGHTS! For some this includes a modest handful of lights around the Christmas tree and maybe the front porch, for others it's a chance to give Clark Griswold a run for his money – literally. In National Lampoons Christmas Vacation he stapled 25,000 bulbs to his house which at the end of the holiday season adds hundreds of dollars to the electric bill, even higher if you use the good old, traditional C9 bulbs. Whether you strive for Griswold status or just want to spread a little holiday cheer, consider LED lighting which could reduce your energy use by 50% or more. C9 bulbs cost .27 cents to run for 12 hrs a day, 40 days whereas incandescent mini-lights cost $10 to run that long!
LED light strings have come a long way over the years and there is a plethora of options now available in an array of colors. Today you can find LED options for almost any holiday decorative need, from C9 to mini to icicle to twinkling lights, multi-colored and white (including warm white and cool white). In addition to a broader selection, the price for LED light strings has come down as well making it a more affordable choice this holiday. In fact, several retailers located in the Charlottesville area and others online are offering LEDs for only a few dollars more than incandescent options.
Not Every LED is Created Equal: ENERGY STAR labeled LED light strings are third-party certified and offer a minimum 3-year warranty, protection against over-voltage and lamp failure, and maintained light output. Outdoor light strings undergo weathering testing. According to the US EPA, ENERGY STAR certified LED light strings can last up to 10 times longer than their incandescent counterparts. While you may save a few dollars at the time of purchase, you could find yourself spending more money on replacements down the road. Other benefits of LEDs in general – they are cool to the touch and come in more durable bulb casing reducing breakage potential. Look for the blue ENERGY STAR label and visit the website for a full list of available products at www.energystar.gov/products.
So let it shine fellow Bettys – and be proud not only of your festive display but also of your commitment to changing the world, one twinkle at a time.
Check out these estimates: to light a six-foot tree for 12 hours a day for 40 days
Incandescent C-9 lights $10.00
LED C-9 lights $0.27
Incandescent Mini-lights $2.74
LED Mini-lights $0.82
Thanks Becky Duff, our newest energy efficiency Betty correspondent, for this blog! A Senior Manager at ICF International, she helps to develop and promote energy and water efficiency specifications for residential and commercial products. She likes Betty because it's a local level approach to everyday actions that save energy.