Earth Week is a week long celebration leading up to Earth Day, which happens each year on April 22nd. In Charlottesville, there are many April activities and events focused on celebrating, exploring and defending, the Earth. Check out what's coming up.
Mon 4/17: UVA Farmers Market from 3-6pm at the Amphitheater

Tues 4/18: Earth Week Expo & Solar Ribbon Cutting from 10:30am-2:30pm in the Newcomb Ballroom

Wed 4/19: SustainaBanquet from 5:30-7pm in the Newcomb Ballroom (register here)

Thurs 4/20: SustainaPitch Night: Social Justice Edition from 5:30-7pm at Open Grounds (register here)

Fri 4/21: Academical Vintage Market & Clothing Swap from 12-4pm at 1515 University Ave.

Sat 4/22: Earth Day of Action – Engage in service, share your voice, commit to green living…you choose!

Sun 4/23: Charlottesville Eco-Fair from 11am-5pm at the Downtown Mall & Pavilion
Celebrate Earth Day at the annual Eco Fair on the Downtown Mall from 11am – 5pm. Enjoy live music and free yoga. Try your luck at several eco-friendly raffle prizes. Tons of kids activities. Explore and learn from over 50 of Charlottesville's Earth conscious businesses, organizations and non-profits.
Join together to March for Science on Earth Day with Cville Com-UNI-ty
The March for Science is a celebration of our passion for science and the many ways science serves our communities and our world. The March for Science is an unprecedented global gathering of scientists and science enthusiasts joining together to acknowledge the vital role science plays in our lives and the need to respect and encourage research that gives us insight into the world.
Get a ride with Rivanna Conservation Alliance
The Rivanna Conservation Alliance (RCA) is facilitating the participation and transportation for those attending the Earth Day March for Science in Washington DC on Saturday April 22, 2017.  Buses will leave from and return to St. Anne's Belfield School 2132 Ivy Road, Charlottesville, VA 22903 (across from Food of All Nations). Buses leave at 6am – estimated return time 8pm.
Cost per person is $50.00 – (20% of which will be a tax deductible donation to the Rivanna Conservation Alliance). Contact is : RCA exec@rivannariver.org or 202-297-3563. Reserve your space at
https://www.surveymonkey.com/r/March4Science
Join Rivanna Conservation Alliance on a sojourn of the Rivanna River. Paddle from Rio Mills to Darden Towe Park. The float will be guided by River Stewards with support from the Rivanna River Company. Click to register.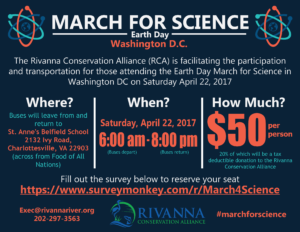 The Sierra Club is coordinating the Virginia Peoples Climate March in Washington, D.C. Bus tickets are now available for the trip to Washington, D.C. on April 29 to the Peoples Climate March.
The tickets are $25 for adults and $15 for students. Buses will depart Charlottesville at 7:30 a.m. and leave Washington, D.C. by 5:30 p.m. There are five buses available for Charlottesville and two buses for University of Virginia students.