Betty's Position on Recycling in our Community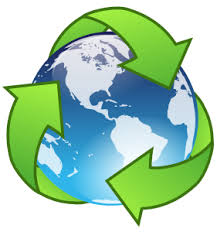 Dear Community Members,
Here in Charlottesville, we live in one of the most beautiful places in the nation — in the world, if you ask us.  In fact, we are consistently voted as one of the best, healthiest, most romantic, smartest communities in America (full list here).  So of course we want to protect, preserve, and steward our environment and its precious resources to the very best of our ability.
Better World Betty was founded on the beliefs that each of us cares about the environment and when people have access to up-to-date, local information and resources presented in a fun and friendly way, they will be inspired to make better choices.  GreenBlue also envisions a world where "human activity is in balance with Earth's carrying capacity so all life can thrive." Everyone of us relies on clean air, clean water, and a clean earth to thrive as a community.
So, in 2012, Betty and GreenBlue came together to form the Charlottesville Area Recycling Task Force (CART) with three primary goals: 1- advocate for a comprehensive sustainable materials management policy in both the city and county that will enable maximum recycling and diversion rates 2- encourage strong local education on recycling practices and policies, and 3- work toward having convenient services for all community members.
We envision a community that truly embraces the 4 R's: rethinking, recycling, reducing, and reusing of resources by any and all means available — including common sense solutions and high tech ones – to achieve the highest standard of environmental stewardship.
To achieve these goals, we envision a curbside 3-bin system for household recyclables, composting (food and yard waste), and landfill trash for both the city and county urban areas (similar to Ann Arbor, Austin, New York and hundreds of communities across the nation) used in combination with conveniently-placed recycling centers in the county's rural areas.  We believe this could achieve 90% recycling rate.*
Using this 3-bin system will give us the absolute best recycling rates AND offer a system whereby the products we separate and recycle in our homes will be remanufactured into products that we can then purchase at local retailers, i.e. a "closed loop" system.  We believe this is a compelling, achievable vision that will contribute to a thriving economy.
Sustainably Yours,
Teri Kent, Founder Better World Betty
*Waste-to-energy and gasification is considered "diversion" and not recycling