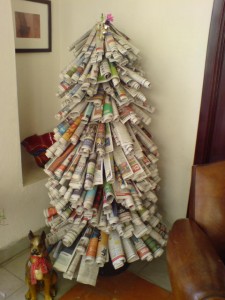 Betty is now OFFICIALLY accepting admissions for our first ever Green Holiday Photo Contest! We want YOU to show US how you keep it simple and sustainable during the holiday season. Have you transcended the over-consumerism of the season, the harried and hectic hassle, and brought more mindfulness, energy-efficiency, creatively conquered and inspired all in your reduce, reuse, recycling revelry?!! Well then show us and inspire more of the same! Capture the green glee had by one or all this winter and Better World Betty's celebrity judges will pick the top photos to receive the awesome PRIZE of a $250 Sarah Cramer Photo Gift Card, Betty t-shirts, and music CDs!
Rules are below…BEST OF LUCK!
Betty
Deadline for Submissions: Friday January 11th, 2013
Terms and Conditions
The photo contest is open to all photographers at least 18 years of age who live in the Thomas Jefferson Planning District Commission geographical area (City, Albemarle, Greene, Louisa, Nelson, Fluvanna)
You can enter up to 10 pictures in each of four categories:
• Local Food and Gifts
• Sustainable Holiday Decorations
• Recycling, Reusing and Energy Efficiency
• Green Living
Photo Guidelines
Better World Betty is looking for photos that show people doing their best Betty actions for a greener holiday season: those things that answer the question "what would Betty do to make the holiday season more sustainable?" Carving a locally raised turkey on Thanksgiving? Decking your halls with locally made/grown holiday decorations? Using LCD lights on your Christmas tree? Recycling or reusing the mountain of catalogues you find in your mailbox? Riding a bike through wintry weather? Capture the moment and snap a pic! Then send it to Betty and you could win a fantastic prize.
You are responsible for obtaining the permission from any individuals depicted.
Photo captions must accompany all submissions, and should included the subject of the image, the location the image was taken, and the name of the photographer(s).
How to Enter
Each photo must be submitted by one of the following two methods:
* Via Flickr™ –
To submit your photos via Flickr™, use your Yahoo!® ID to login to www.flickr.com. If you do not have an account, you can sign-up for free, it's easy. After logging in, upload your images (use the "Upload Photos & Videos" link under the "You" tab). Then, if you are not already a member of the Better World Betty group on Flickr™, visit our group page and click on "Join this Group?".
After joining our group, navigate back to your photostream and click on the image you wish to submit. Next, use the "Add to a Group"
function under the "Actions" tab to add your images to Betty's photo pool. Once added to the group, tag each photo with the appropriate tag.
Appropriate Tags depending on the Category (be sure to use the quotation marks):
• "Local Food and Gifts"
• "Sustainable Holiday Decorations"
• "Recycling, Reusing and Energy Efficiency"
• "Green Living"
Your photo must be tagged to be considered as part of the contest. Also, you must include a description with the subject of the photo, the date and location of the photo and the photographer's name.
* Via Email –
We strongly encourage you to use Flickr to submit your image. However, if you are unable to use Flickr, you can also submit your photos to teri@betterworldbetty.org. The subject line should correspond with the category that you are entering the photo in (example: Photo Contest – Local Food/Local Gifts). The email must include the subject of the photograph, the name of the photographer, and the location the photo was taken (county will suffice).
Betty reserves the right to upload photos submitted through this process to its public group on Flickr™.
Eligibility and Judging
Better World Betty staff and volunteers will select finalists in each category. Winners will be selected by a panel of local experts and community leaders, including:
Sarah Cramer, Cramer Photo
Dave Norris, Charlottesville City Council
Brad Savage, 106.1 The Corner
April Muniz, Development Chair, Better World Betty
Julie Myers, UVA Women's Lacrosse
Deadline
The Deadline for submitting photos will be Friday, January 11th, 2013. Winners will be announced on 106.1 The Corner on February 1st, 2013.
Betty reserves the right to adjust the deadline(s) as the result of causes beyond its immediate control.
Your Rights
You will retain all rights to any photograph you submit — including ownership if applicable. By entering the Better World Betty Photo Contest you also grant Betty a nonexclusive right, in perpetuity, to:
* Publish the images for Betty's purposes in any format, including on the Better World Betty website and in Better World Betty publications or presentations.
* Use, in connection with the Photo Contest, your name, city/county, and state in promotions and other publications.
As conditions of this permission, Better World Betty shall credit all photographs when the full name is available, or by the participants Flickr username when the participant's full name is unavailable.
Prizes
The "Best Overall Photo" will win a $250 Cramer Photo Credit/Gift Card!! Her website is: http://www.cramerphoto.com Betty t-shirts and 1061 the Corner CD Samplers will be given to the top winners in each category!
Questions
Questions and inquiries about contest rules can be emailed to teri@betterworldbetty.org