[This will be a series of blog posting Better World Betty's top gift pix for 2012]
We start off greening the holidays with greening your thumb!  What about helping your loved ones enjoy the outdoors by getting a gift that gets them there?  Here are some "gifts for the gardener"
*Check out these locally-made Cold Weather garden frames from Nathan Handley at Sunnyside Projects: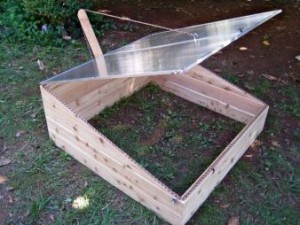 2′x4′ – $250 4′x4′ – $350 4′x8′ – $525 or submit a project and Nathan will see what he can do!
Available for pickup Locally in Charlottesville, VA. Other products include  cedar raised garden beds, cold frames, or unique, portable suitcase gardens would all make great gifts as they can come boxed and are easy to assemble.  If folks are looking for a bigger surprise for their loved ones Sunnyside Projects offers Geodesic Aviaries (great for chickens), Hoop Greenhouses, and Custom Shelving.
*Rainbarrel
*Composter
*Gift certificate to Edible Landscapes
*Grow your own mushroom kit (saw this one at family-owned Garden Spot on West Rio Road)
*And my friend Sarah Frazer emailed this Green Gift Idea: gift certificates from C'ville Foodscapes
As the days grow shorter, many of us are starting to hunt for the perfect gift for our loved ones. While Charlottesville has an awesome array of options for giving food and crafts, what if you could give a gift that was more rooted? An investment that would save the recipient $ in the long-run, increase their access to healthy food, and reconnect them with the land they live on? A fruit tree, perhaps, providing apples, figs, or persimmons, right out their front door? Or a portable culinary herb garden, lending the taste of freshness to every dish? Or how about an individualized consultation, helping that green or brown thumbed person on your list envision a beautiful, bountiful oasis of useful plants right in their own backyard? No late night gift wrapping required.
Well, now you can! After a dear friend of ours hired us to plant a fig tree and strawberries for her daughter's birthday, the holiday elves at C'ville Foodscapes have decided to offer winter gift certificates.
Securing yours is simple:
Step 1) Visit www.CvilleFoodscapes.com. Select your gift certificate. Fill out the form with your contact information and the name and address of your recipient.
Step 2) We'll email you an invoice for the amount listed on the website. Once paid, we'll mail or hand deliver a custom-designed, eco-friendly gift certificate to your recipient by December 23rd.
Step 3) Once they've opened their gift certificate, your recipient can contact us, and we'll work with them to schedule planting or consultation during ideal dates.
Since opening its doors in 2009, C'ville Foodscapes has helped over 80 households start, revitalize, or expand edible gardens. This is our first year offering holiday gift certificates. We hope the idea is a good one and that it will help inspire even more gardens in 2013.
Thanks for reading & happy holidays!