Do you have a passion for art? The environment? Or both? So does Kate Samworth and the Art and Ecology Club! The club strives to increase awareness of environmental issues by creating fun and educational pieces of artwork.
On Friday, April 4th, join Kate and the Art and Ecology Club for the opening night of their exhibit, "Art Meets Ecology" at McGuffey Art Center from 5:30-7:30. The exhibit features artwork from over 50 artists, centered around the issue of plastics and its effects on our environment. The Marine Species installation illustrates some of the 267 species of marine life affected by plastics in the ocean. Heart wrenching to see.  Not able to make the opening night? The exhibit will be up the whole month of April– be sure to check it out!
Here are a few pieces that will be on display!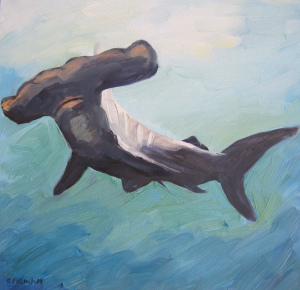 Art by Eileen French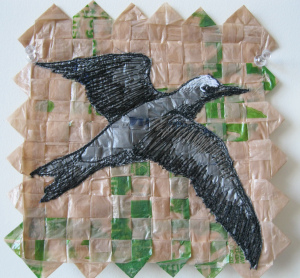 Art by Kristin LaFlamme
Did you know?
32 million tons of plastic waste were generated in 2012
In 2012, the United States generated almost 14 million tons of plastics as containers and packaging, about 11 million tons as durable goods such as appliances, and almost 7 million tons as nondurable goods, such as plates and cups.
Only 9 percent of the total plastic waste generated in 2012 was recovered for recycling. (EPA)
Come join us and the Arts and Ecology Club on Friday for this wonderful exhibit and to learn more about what you can do to help solve the plastic problem!
In the meantime here are some tips for AVOIDING plastic:
1-Be prepared.  Like every good boy and girl scout, be prepared with your reusable bags in the car, reusable coffee mug/containers, utensils (I keep the bamboo kind in my purse), as well as to-go containers for take out.
2-Pack a waste free lunch using parchment paper and glass or aluminum containers.
3-Make it from scratch.  So much plastic is used when we buy prepared/processed foods.  It will be healthier AND create less waste.
4-Opt out of the receipts – did you know many receipts contain BPA or other phthalates?  Avoid them when you can
5-Ask for no plastic bags at the dry cleaner – hopefully they can honor it.  (this is a new idea for me, so I'll let you know how it goes)
6-Avoid styrofoam containers by bringing your own (and download our anti-styrofoam letter on the home page to encourage restaurants to "make the switch")
And of course, KEEP SOURCE SEPARATING THE RECYCLING (i.e. take it to McIntire or use Evergreen or Republic Services for your recycling).
Also visit the Arts and Ecology Club website to learn more. http://artandecologyclub.com/about/
Best,
Betty