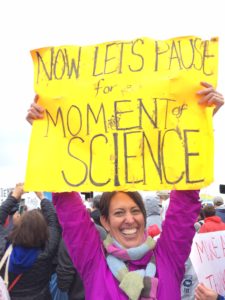 Teri at the March for Science in Washington D.C. on April 22, 2017
If you went to the Science March last weekend or today's Climate March in D.C. or attended a local march, there is plenty to do in the wake of the positive collective energy that is gathering!
1. Make Your Voice Heard! Wield your phone eco-warrior by calling your local, state, and federal representatives and let them know that you care about clean air, clean water, and clean energy. Let them know that you didn't vote to cut funding for the Environmental Protection Agency and the Clean Power Plan!
Go to http://www.house.gov/representatives/find  or in
Virginia call: Dial 202-224-3121 to reach all 3 who represent you in Congress in D.C.
The local numbers are even better: Senator Mark Warner (804) 775-2314, Senator Tim Kaine (804) 771-2221, Congressman Tom Garrett (434) 973-9631. I call on my lunch hour or when I'm off work before 5:30pm.
Also, a friend told me about Daily Action, where I get text notifications on a daily basis about actions I can take to make a difference and get active! I love it. I don't always call, but that's ok. I call when I can. You can too.
2. Take a Small, but Meaningful Action in Your Daily Life Now! Maybe you will opt out of sales receipts from now on, maybe you will refuse plastic and bring your own bag, or you'll remember your mug when you visit your favorite coffee or smoothie shop. Maybe you'll reduce your burger intake. Don't discount these small acts. "We can do no great things, only small things with great love" is something Mother Teresa said. For ideas big and small, check out our BWB Home Menu of Taking Action. If made for busy folks like you!
3. Give Time, Treasure, or Talent to an Environmental Organization Near You! There are plenty of important organizations out there working on the front lines locally including Better World Betty. Others we love: LEAP (the local energy alliance), Rivanna Conservation Alliance, Chesapeake Bay Foundation, Appalachian Voices, Virginia Green, Wild Virginia, and bigger ones like the Environmental Working Group and the National Resource Defense Council.
4. Take a Big, Meaningful Action! Go solar on your home, ditch one of your vehicles, get a green job, go vegetarian, or run for office. The tide is shifting. We can support each other in these transformations. Gather the positive energy from the collective energy you were a part of and be inspired to change your world.
5. Pray! I am inspired by the deep connection to the Earth expressed by leader Tom GoldTooth of the Indigenous Environmental Network who spoke at the Bioneers Conference in 2013. "Our sacred responsibility is to safeguard and protect this world. Human beings are not separate from the natural world but were created to live in an integral relationship with it. We can fashion sustainable solutions and re-sacralize our relationship to Mother Earth." At today's Climate March he said we can take action with prayer.
With big Betty love,
BWB
More photos of the Climate March and Science March can be found on Betty's Facebook Page