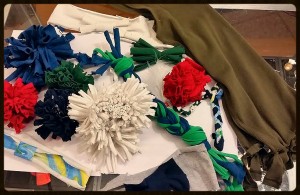 On Wednesday, March 4th, the
Zero Waste Warriors
 had the pleasure of hosting a night of repurposing t-shirts at ReThreads Consignment. It was a blast! We learned many fun ways to easily make an old t-shirt new again by turning it into a bow, headband, tote bag, bracelet, or dog toy. Check out the links below for instructions to make these items at home. We had a great turnout, new Zero Waste Warrior recruits, and even greater ideas! We are so excited to get the ball rolling and to continue raising awareness and passion for the environment.We will hold meetings like this one the first Wednesday of every month, with ONE exception: There will be an
extra special
meeting on April 15th to gear up for Earth Day! ALL of our events will be fun, free, and interactive. We want you to enjoy your time with us and keep coming back! Remember to mark your calendar for these upcoming events:
Wed, April 1st
Wed, April 15th
Wed, May 6th
(Locations TBA)For more information or to become a Zero Waste Warrior, visit our webpage 
here
.
And now….
5 No-Sew Ways to Reuse an Old T-Shirt
1. Tote Bag
credit:
Mommypotamus
__________
2. Headband

credit: I Am Momma – Hear Me Roar
__________
3. Bangles

credit: Lil Blue Boo
__________
4. Dog Toy

credit: BarkPost
__________
5. Pom Poms

credit: Little Treasures
(Instructions on how to make long t-shirt yarn here)
__________
Have fun and get creative!!