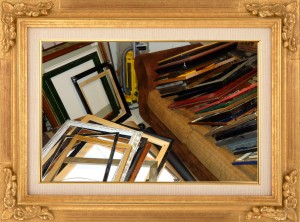 Framing your favorite artwork, photos, or keepsakes in the most eco-friendly fashion isn't always easy as we can get lured into buying a cheap frame made of imitation wood or plastic that are so readily available nowadays, especially if you're on a tight budget. Here are some bright ideas:
Going on a frame hunt…
Start looking for your next picture frame at local thrift stores or garage sales. A funky, retro, or classic frame is waiting for you at a fraction of the cost of a brand new frame. This is truly your best eco-bet if you have the creativity and time. Local frame shops like Art Box and Creative Framing and La Linea Bella are more than happy to upcycle an old frame for you. Even chain stores like the Great Frame Up estimates at least 10% of sales are from this "reframing" option.
Opt for simplicity with a no-frame or "uni-frame" where cut-glass is clipped to fit your piece with a reinforced backing.
Next bet: look for FSC-certified wood or locally-sourced wood, like Vermont Hardwoods. When I wanted to frame old seed packages as kitchen décor, I found "Dyads Dancing," two artists from Georgia who use barn wood and recycled antique ceiling tin for frames. Good if you like the "shabby chic" look of reclaimed wood.
If you cannot find what you're looking for here locally, the good news is there are bamboo, reclaimed and recycled wood options that are made in the USA from sustainably managed forests online. One I found www.pictureframes.com under eco-friendly frames, but I'm sure others exist.
Next thing you know, your framed artwork will be the upcycling envy of all your friends.
Best,
BWB
photo credit: frameitup